Basic Web Design and Optimization with Michael Bunn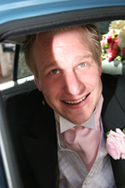 6th August 2009: Basic Web Design and Optimization
Today, we're here with Michael Bunn to talk about basic web design and optimization. Michael has been in the business of building websites since 2005 and to this date has gathered a portfolio of niche, high-traffic websites to his name.
Michael offers his web design services on his flagship website; www.seo-web-design-services.com

** On the right: Mike at his wedding


---

How did you get into making websites? How many websites do you own now?
It all started from wanting to make money while you sleep, those get rich schemes are what got me interested in the internet. Unfortunately there is no such thing as a get rich scheme. If you want to earn money through a website then you have to put the hard work in.
I own 5 websites at present; the busiest 2 sites are the ones I have created with Site Build It.
Why did you go on and build seo-web-design-services.com?
Before I joined Site Build It I struggled for over a year trying to attract free traffic from ranking high in the search engines with a website I had created. The information to rank high is out there, but you only find half a story, not the whole truth or websites that only offer a service.
When I joined Site Build It in 2007 it showed the basics of SEO, as I built a site with SBI I learned how to build websites correctly, with it being such a success I decided to build a site on SEO which would be full of free information to help others in the same situation as I once was.
But as time goes on people start to ask for services and web design, so I now do web design, SEO and hosting services as well as having a content rich site of valuable SEO information.
Who do you look up to in the field of internet marketing?
I have read huge amounts of information online from many experts that have helped me in the past, but the website that made me choose Site Build It that turned my online career around was 2createawebsite.com. This site is run by Lisa Irby, she is so honest, kind and helpful that I do tend to pop back now and then. You can always find Lisa at her forum; Website Babble - a great place to learn and ask questions about internet marketing, basic web design and optimization or indeed anything.
** Ed's Note: Website Babble is a fantastic forum for getting yourself heard. Perhaps you're a regular at DigitalPoint or somewhere similar; but I highly recommend signing-up over there!
>>> UPDATE: I've interviewed Lisa! Check it out here
Can you share some stats on how your websites are performing in terms of traffic and income? How did these figures change over time?
Two of my sites together are receiving over 10,000 visitors a month which keeps growing every month. Without letting the cat out the bag I receive more money from customers than I do automatically, though one night I made just over £100 while sleeping.
What html editor do you prefer and why?
I have only ever used Adobe Dreamweaver which is great, still learning new things every day.
What advice would you give to people before they go and talk to a website designer?
I always tell people there is well over 100 million websites, so unless your website is on the first page of Google for phrases people are searching for that are related to your website then there is no point in having a website.
Not all but some web designers will build you a site, take your money and leave you with a website lost in cyberspace. Just be careful.
If you could rewind back to 2005 when you started building websites, what would you do differently and why?
I wouldn't change anything as you learn from your mistakes, but if I was going to change anything then I would have slowed down and took more time over everything I did. Rushing only means you have to go back and re-do things correctly.
---

Michael offers basic web design and optimization on attractive per page rates, whilst also serving up effective search engine optimization services (especially for local businesses in his area!). Since Michael learns with Solo Build It, you can be sure to get great results!
Are you near Wiltshire in the United Kingdom? Search engine rankings are merely a click (and a whole lot of learning:D) away!


---
Visit Mike's Homepage

Learn more about Site Build It

Return from Basic Web Design and Optimization to Webmaster Interviews

Return from Basic Web Design and Optimization to How to Build A Website