Ed's Web Bulletin
Subscribe to my newsletter - Ed's Web Bulletin. Get fresh, "noise-free" internet marketing tips, techniques, tools and tips delivered to your inbox. I'm in the business of finding stuff that works; so what have you got to lose?
The nuisance of spam? Nope. I hate spam with a passion and always check privacy policies myself. We will NEVER rent or sell your email address (and yes, we do get approached...). But perhaps the nuisance of more email is simply too much - in which case, let me give you three reasons to sign-up;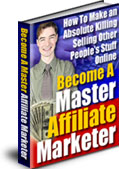 1) It's not hourly rubbish cramming your inbox with 'Bulletin updates'
2) It filters out the rubbish in the internet marketing world to give you the leanest, most-juicy infomation (Sorry, I had steak and chips before I wrote this..)
3) You get a free e-Book: 'Become a Master Affiliate Marketer' - "on the house"
P.S. Where available, I'll be throwing you a few more freebies too!

Simply enter your first name and email address and complete the sign-up process.
View our Privacy Policy

Return from Eds Web Bulletin to How to Build A Website