Site Build It Manual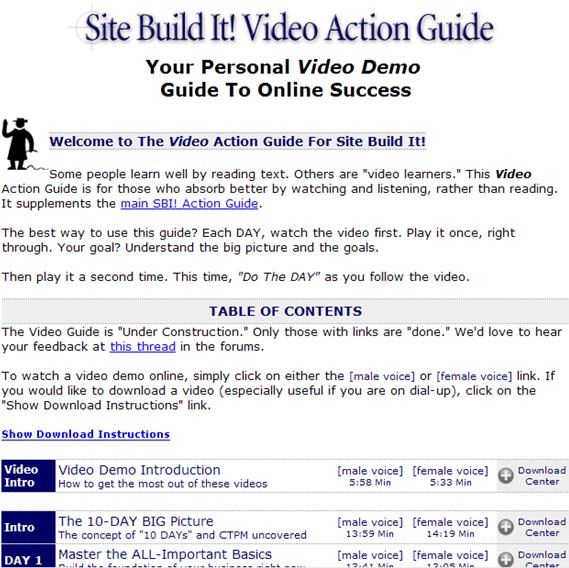 Site Build It Manual: The Action Guide Homepage
The Site Build It Manual is called the Action Guide. It works on a simple 10-Day system (as in steps, not literal 24 hour periods) that guides you through the general internet marketing world, has dedicated how-to mini-guides on using specific SBI tools such as Form Build It and MailOut Manager, as well as providing suggestions and grounds for brainstorming new ideas.
The Action Guide comes available in both written and video form. The videos come with two voice-overs; a cool American female voice and a rather strange male voice – it's hard to describe... try it and you'll see what I mean.
From the start, the Action Guide is designed for web novices – they acknowledge this at the beginning. Site Build It is aimed at a very broad audience, many who aren't web savvy. However simple or slow it can come across, it's important to stick through it.
The written guide may well be more suitable for the 'net-savvy' since you can scan read through the guides and take onboard what is new and relevant to you - although the video mini-guides to specific SBI tools are a must!


View the Site Build It Action Guide
>>> The 10 days break down as follows:
Day 1 – Master the All-Important Basics
This essentially is a quick introduction to the basics of the internet, and that by building credibility and relationships – PREselling – you are more likely to succeed. This is to establish a "rig" if you like, to move through the next nine days.
Day 2 – Develop Best Site Concept
Day 2 introduces you to Brainstorm It! and its powerful keyword research and organization. It shows you how to find the best keywords and overall niche. Your brainstorm three entire site concepts and choose the best to continue with.
Day 3 – Further Brainstorming and Mapping Your Sites Blueprint
In Day 3, you look at further more comprehensive keyword brainstorming of your sites main topic. You then cherry pick selections of keywords to "map-out" how your site will work, in a simple 3-tier format. You end the day with an arsenal of powerful keywords, and an idea of how you're going to use them. If at this point you decide that your chosen theme isn't good enough, you can always loop back to Day 2 and brainstorm another site concept
Day 4 – Investigating and Planning Monetization Models
How are you going to make money from your website? You evaluate the potential of different monetization models and look at other possible ideas. I cannot stress enough how important diversification is!
- This is one of my favourite days, and I love visiting the Day 4 SBI forum to see what people are coming up with.
Day 5 – Aye, domain registration day!
The has come where you will register your domain. What will your domain be? Can you incorporate your main site concept keyword into it? What spin can you put on it? These questions are all explained in detail.
Just remember, the domain you choose will stick with you so make sure it's a good on! The Solo Build It manual gives you plenty of tips and ideas however. To keep discovering about the Site Build It Manual, visit the Action Guide here.

Return to How to Build A Website