Site Build It Free!
Get the Most out of Site Build It Without Paying A Penny
Get Site Build It Free! You're unsure whether to go ahead and purchase a subscription, but you want to see more. There's a distinct difference between reading reviews and trying something out for oneself.
In this short article, we are going to show you:
> What Site Build It tools you can get free and where
> What free e-Books you can get
> Where you can see bulk of the training course – for free!
> How to "get on the inside" without paying a penny!
>>> And of course, there's still the 30-day moneyback guarentee!
---
Firstly, there are many free Site Build It tools useful for anyone on the web. This includes...
Search It! This clever little piece of software is essentially a tool to step your online searches up a gear. You select what kind of search you want, where you want to search and enter your criteria – your keywords.
Search It then interprets this information and directs you straight to third party search results having already done the search you want at the best possible source. Choose It!
'Niche Choose It!' drives the decision on which site theme you will adapt during Day 2 of the Action Guide. However, for the purpose of use by the public, the software has been made available for general use by the public.
How it works – you enter a question (e.g. What web host should I choose?), your criteria (total cost, training, support network, ease of adding plug-ins etc.) and how important they are to you out of 100.
You then enter however many options you're considering, then rate them out of 100 according to the criteria you've set. Choose It! then turns it into a mathematical equation and displays the best results in a graph form.
Choose It! can be used for anything – whether you need something to help you make any decision. Try a "what should I have for dinner?" question, why not? ;-)
SpamCheckIt! SpamCheckIt! is a tool that interprets your email copy in the same way as many different email systems. It'll quickly show you how to use the tool, give you an overall score of your mailout, highlight any problem areas, serve up some suggestions – and do all that lightening fast!
We all hate spam – SpamCheckIt! is one of the ways to clean up the web, as well as getting the quality emails through the filters.
---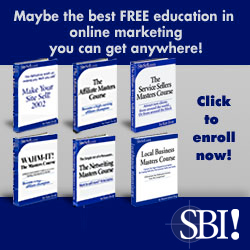 There are many Site Build It free e-Books for anyone to download and use. Pompously named 'Masters Course' suffixes follow different themes from affiliate marketing, online auction selling and web master work to work-at-home-mums (affectionately branded "wahms") and courses in how to write well online.
Although updated over the years, these eBooks such as Make Your Site Sell! were previously sold commercially. MYSS formed the basis of Site Build It. You can download all the Site Build It e-Books here for free; do use them!
---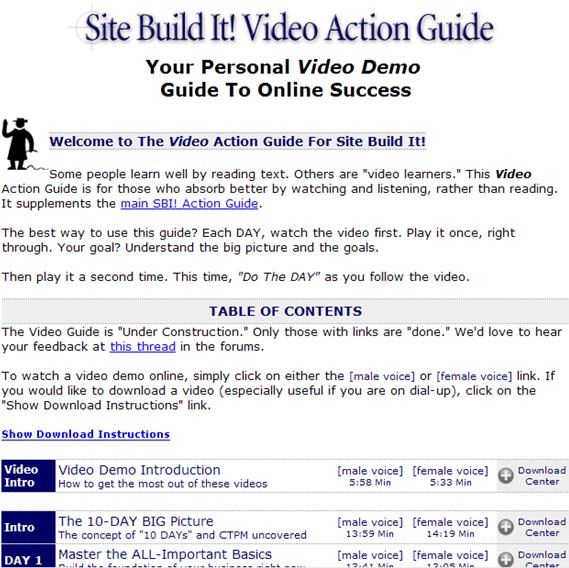 The SBI Action Guide forms the bulk of the training course. It covers the ideas behind internet marketing, how-to mini guides on using specific SBI tools, catalysts for brainstorming and the odd motivational speech.
Strangely, this information is free-for-all. Here you can view and download the Action Guide in written and video form.


---
How to Get Inside Site Build It Free
Right; here's the trick to getting inside Site Build It free. SiteSell, the company runs an affiliate program selling SBI and its services including SBI eLearning and SBI Services. This is designed for people to recommend Site Build It, expand web-related sites and to help grow SiteSell's client base.
The Site Build It Affiliate Program is called the 5 Pillar Program. You can sign-up for Site Build It free here. There are over 80,000 5P members – and yes that number does exceed the number of members at present. You might think that be wrong – but such is the nature of affiliate marketing. The mobile phone industry is heavily dependent on affiliates online, but do they get to grips with each and every product before promoting it? Probably not…
Affiliates have to build credibility however, something SBI is bursting with. The 5 Pillar program simply features hundreds of different reference tools; they do the hard work for you – you piece it together. Think of music – the music is written for you in all it's glory, you need to perform it.
To sign-up to 5P is free, however this looks set to change in the near future. SiteSell have sent out warnings (it appears at the bottom of the T&Cs for example) that in future the editorial policy for affiliates will tighten. It may no longer be available to anyone, even those without websites already - since there's ample offline material too! So sign-up now whilst you can still take advantage of this little loophole!
If you want to get the best out of your 5P membership, try scrolling up and downloading the Free Affiliates Masters Course. >>> Sign up to the Solo Build It 5 Pillar Affiliate Program


Return from Site Build It Free to SBI Site Build It

Return to How to Build A Website